SKAU | Martio grey wool/acrylic coat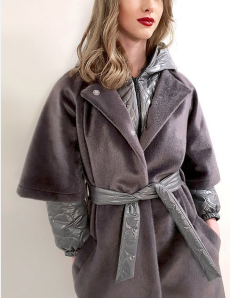 Pris:
4 500 kr
Inkl. 25% Moms
Art.nr:
P1830366
Antal:
Denna funktionella och avancerade hoodyjacka är gjord i ett högkvalitativt cashmereulltyg, i kombination med ett broderat vattentätt hightech acryll-tyg, för huva, manschetter och bälte. Det fördubblas med en tjock pläterad linning.
Fram dragkedja.
Vit-transparent push butoons.
Färg: grå och beige.
Fickor på framsidan.
Leveranstid: 3 veckor
Fri frakt och retur.

English: This functional and advandgarde hoody coat is made in a high quality cashmere wool fabric, in combination with an embroidered waterproof hightech acryll fabric, for the hood, cuffs and belt. It is doubled with a thick paded browns linining
Front zipper.
White-transparent push butoons.
Color: grey and beige.
Pockets on the front side.
Delivery time: 3 weeks
Free shipment and returns.